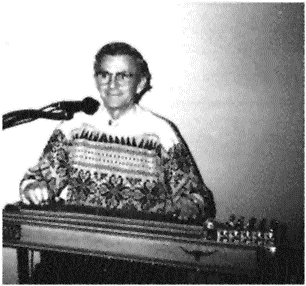 Billy Jones
Medicine Hat, Alberta, Canada
When I began playing back in the 40's, I had no knowledge of the electric Hawaiian guitar, as it was called back then. I began with a six string seven dollar acoustic that you put on your knee and wore a couple of hard steel finger picks that hurt like hell and used a flat bar. I liked the sound but, outside of a few Hawaiian tunes I had learned, I didn't know what else I could do with it.
My first electric was an Electromuse six string lap and a Carolatron amplifier that was no more than a 5 watt American beauty with absolutely no personality. I began to listen to Hawaii Calls on Saturday nights and then discovered Roy Smeck and Alvino Rey but I was getting nowhere with my A major tuning. I graduated to a double eight National 1000 (the early one with both necks even). It come with a high bass A tuning with an F# and G on the 7th and 8th strings. The second neck had an E tuning that was no more than an inversion to me at that time.
A few dance bands and several radio shows later I was recruited into the King Ganam western swing band on network radio and discovered the C6th tuning. I brought a new Fender triple short scale guitar and a Twin amp and changed the main neck to an A6th and I,ve been using it ever since. It's been good to me and I've managed to support many Nashville stars when they came to Canada. I played for 7 years in and around Las Vegas and toured the world then spent countless hours in recording studios. (RCA, Boot etc.) Noel Boggs and I spent many hours together. I had the privilege of sitting in for Joaquin Murphy during one of the Spade Cooley shows at the Ocean Park Ballroom. I idolized Speedy West and once had the opportunity to play in the Toronto Symphony Ochestra. But still, there are days when I feel like I haven't learned a thing. I guess I'm getting old. After all, I played for the daddys' of the new kids on the block and I'm slowin' down.
I have a 10 and a 12 string. Both instruments have oak bodies and basic MSA frames. The 10 string was built by LINKON Steel guitars in Winnipeg but I built the 12 string myself. I had a Nashville and a Session 400 amplifier but gave them up for the gentler sounds of the old 50's Fender "F" series Twin and Bassman tweeds. My 10 string does not use the 1st or the 12th strings on this chart and I'm still experimenting.
TUNING CHART
A6th.Ma7
P E D A L S
L E V E R S
1
2
3
4
5
1
2
3
4
1st
G#
A
2nd
F#
3rd
E
F
D#
4th
C#
D
C
5th
A
B
G#
A#
6th
F#
G#
G
7th
E
D#
D#
8th
C#
C
C
9th
A
G#
A#
10th
F#
G
11th
D
D#
C#
12th
A
Visit our home page in Medicine Hat at www.memlane.com/nonprofit/lmc.
Copyright ©1997 by Billy Jones,
HTML by Bobby Lee